Gospoda Koko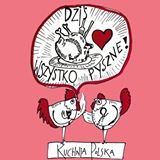 https://www.facebook.com/gospodakoko
Usually I avoid eating in the immediate vicinity of the main square. Restaurants there are generally "tourist traps", with high prices and small portions. As with all generalisations there are exceptions to the rule though (oops I just generalised again); and Gospoda Koko(located on Gołebia) is one of those exceptions.
My first visit to Koko was after a tiring photo shoot. It took place a couple of days after my Kraków Light experience. This time, however, there were no professional models, no studio lighting. We did manage to get some very nice late afternoon photos of my friend posing in the must-see tourist locations in the old town of Kraków. We'd taken the last photos of the afternoon within the walls of Wawel Castle with the sun just about disappearing beyond the horizon. All that walking around and taking photos had given me quite an appetite (but to be honest pretty much doing/not doing anything gives me quite an appetite). On my model's recommendation we headed to Koko. Any place that serves cheap and tasty food gets my vote.
So, after even more walking, we soon arrived at the restaurant and headed via a low-ceiling staircase down to the cellar. Downstairs there are four interconnected rooms. I avoid the "smokehouse" room for those fag addicts who don't want to smoke outside and would rather be kippered indoors. Unfortunately some of the smoke occasionally escapes from that room into the bar area. We chose to sit in the quiet back room to review the photos we'd taken. There are half a dozen or so tables there. Like many traditional Polish restaurants wood features heavily. We borrowed a candle from the neighbours at the next table and added a few more photos to those we'd taken earlier.
Ordering food and drinks was a little more tiring than I would have liked. Drinks were ordered and paid for (in cash) at the bar. Food was ordered in the main dining room and you are given a numbered card to place on your able. Alas on this occasion their credit card terminal was out of action, so I wearily made my way upstairs to pay for the food.
The food here is traditional Polish fare such as Pierogi (ravioli-type things), schabowy (breadcrumbed fried pork cutlet) and naleśniki (sweet or savoury filled pancakes). We opted for the duck (with apple sauce) with mashed potatoes. It didn't score too well on presentation, but it was reasonably priced and tasty enough. Generally prices in Koko are near to "milk bar" level, for 14 zloty you can get a main course with mashed potato/rice/fries, a soup and a side dish of surówki (shredded vegetables). Food is of reasonable quality (taking the price into account of course) and usually arrives very quickly. The hand-written menu changes every day. Beer is also cheap with a basic 0.5L Tyskie coming in at a mere 5 zloty. I usually opt for Ksiązęce Czerwone at 6.50. You will notice I said "usually". Yes, this is one of those places that I keep coming back to. Good home-style Polish food and cheap beer, what's not to like?
*** STOP PRESS *** On my last visited I found out that Green Mill cider is available at 6.5 zloty